Fairest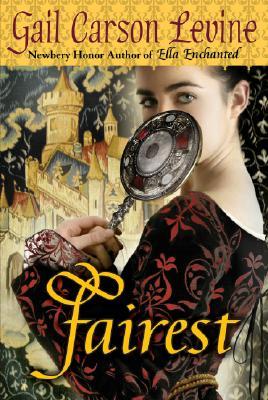 About the book:
In the kingdom of Ayortha, who is the fairest of them all? Certainly not Aza. She is thoroughly convinced that she is ugly. What she may lack in looks, though, she makes up for with a kind heart, and with something no one else has-a magical voice. Her vocal talents captivate all who hear them, and in Ontio Castle they attract the attention of a handsome prince - and a dangerous new queen. In this masterful novel filled with humour, adventure, romance, and song, Newbery Honor author Gail Carson Levine invites you to join Aza as she discovers how exquisite she truly is.
My review:
5 out of 5 stars
Snow White was never a favorite fairytale for me. It still isn't. But... Oh! This book was awesome!! Mrs. Levine takes every liberty you possibly can use with fantasy and brings it to a whole new level. The creativeness is pure genius. I was on the edge of my seat for the whole book and that ending... Oh wow.

On a note of caution though, there were a lot of things I was uncomfortable with, but I felt that since it is fantasy that gives enough liberty to the make believe.